Cricket games on computer are really a great way to enjoy cricket. Though it cannot provide on-field experience, playing them online is full of fun and excitement. I have a list of some of the online cricket pc games:

Stick cricket:
Claimed as the best cricket game of the web. You must login to start playing and you will get credits. You can choose world domination, supereight or club cricket.
Click here
to play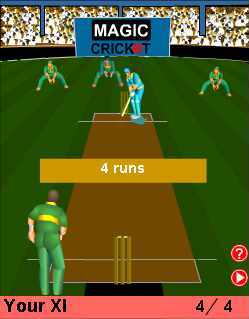 Virtual cricket :
Easy to play by simply going for the shots by placing the batsman in correct place and choosing right shot. The best part about this game I find is the commentary and cheer of crowd which makes it realistic.
Click here
to play it.
Stickman flash cricket :
This is one of the rare multiplayer online games. There are lot of opportunities to hit the ball out of the ground, but just watch out for the height of the deliveries as you can also be caught out by the bowler. If you are in the mood to cheat then you can play alone, hit the ball down the ground and can take as many runs as you want.
Click here
to play
Tabletop cricket :
A cricket game from miniclip. Choose the power for bowling or position the filders and also get fours and sixes. A different cricket game.
Click here
to play it.